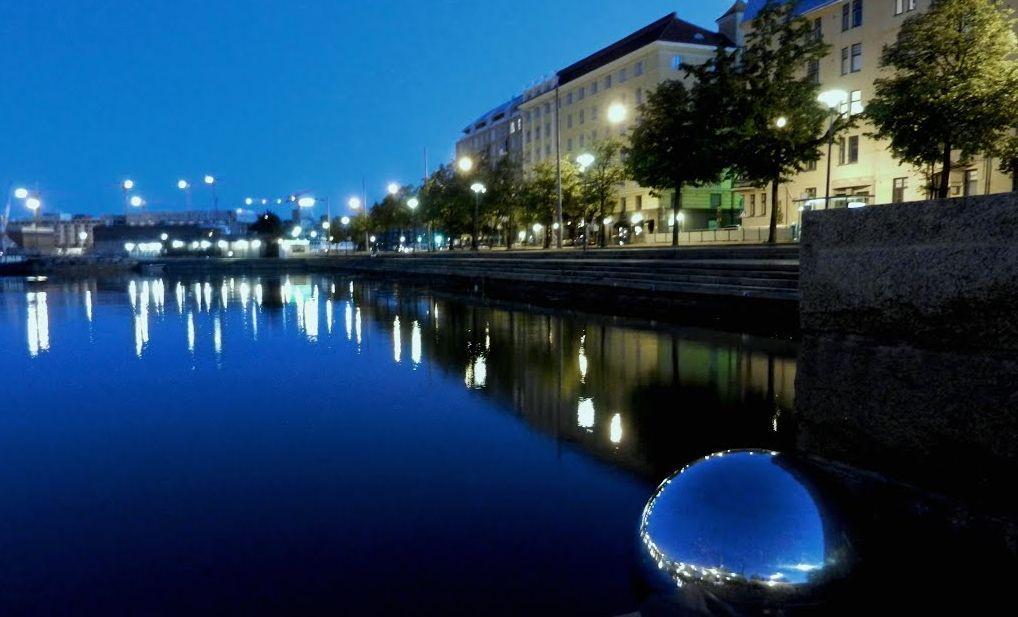 Beauty is in the eye of the beholder. A city can be rendered esthetically attractive by a smooth design of public transport equipment, by a green shoreline or by an interesting encounter between old and new city milieus. A non-fiction writer, a non-profit leader and a jazz artist tell what delights them in a cityscape.
"Delighted by bright orange and smooth design"
Eveliina Talvitie, non-fiction writer and communication expert
Hietalahti waterfront, Helsinki
I'm pleased every time when I walk near the Hietalahti harbour and catch a glimpse of Olo 22 by Pasi Karjula and Marko Vuokola. The mirror-like stainless steel balls of the artwork placed around the waterfront area are a good fit for the environment. They are a conspicuous feature of the area and never fail to amaze me.
Metro, Helsinki
I take the metro to work, so the metro design, created by Börje Rajalin and Antti Nurmesniemi, delights me every day with the bright orange colour and smooth shape. A good combination. Also noted "out in the world".
Turku–Helsinki motorway
Posankka by artist Alvar Gullichsen on the motorway to Turku makes one laugh every time.
Tokoinranta park, Helsinki
The Huvila Festival Tent of Helsinki Festival in the Tokoinranta waterfront park is a beautiful and enticing structure. It's rebuilt every year, as if reincarnated.
Café Aalto, Helsinki
Café Aalto on the second floor of the Academic Bookstore designed by architect Alvar Aalto. It has eternal beauty. We hope that the café will be retained as it is. In this environment, the old and the new must co-exist side by side with respect for each other.
"A beautiful city park promotes heart health"
Tuija Brax, Secretary-General, Finnish Heart Association
Central Park, Helsinki metropolitan area
There is a new absorption field for surface water runoff on the border of Metsälä. The field is an oasis-like artistic experience created with the help of landscape architecture. I cycle past the field almost daily, and it's fun to enjoy the inventive aesthetics and the ecological treatment solution for runoff.

Kaivopuisto park, Helsinki
Studies show that a pleasing city park promotes heart health in the same way as a walk in a forest. Helsinki has numerous parks where heart health can be promoted while enjoying the power of the tranquility offered by a garden and public art. One of my favourites is the artwork Odotus (Waiting) by sculptor Pekka Jylhä in the Kaivopuisto park.
Hernesaari waterfront, Helsinki
Helsinki has been called the Daughter of the Baltic. It's grand that new city districts emerge on the waterfronts of our city reflecting the contemporary aesthetics even in art. The water basin of the Hernesaari waterfront park and the art that continues along the shoreline feed the imagination and a yearning for faraway places with its imaginary islands and continents.
"Small, crazy ideas give a city a distinct character"
Timo Lassy, jazz artist
Tram stops
In Kamppi, Helsinki, I stop at Stefan Lindfors's tram stops, which offer a refreshing change with their genre. I would like to see different kinds of stops elsewhere. As such, they are good landmarks and immediately give the area a distinctive, memorable character.
Crusell Bridge
My rehearsal studio is located at the Cable Factory, and I often take the Crusell Bridge to get there. Although the bridge only crosses a small canal, it represents a big leap that connects the old factory milieu to one of Helsinki's newest residential districts. It's a highly recommended walking route and area all in all.
Old (visor) kiosks
Helsinki still has a few old kiosks left. They can be found on the Esplanade, in Punavuori, in Töölö and elsewhere. It's unfortunate that they are not all in active use, because they are as sweet as candy in themselves.
Salakauppa
We should have more of the same kind of small and perhaps slightly crazy ideas in Helsinki!
Spatial art garden in Viiskulma
One of Helsinki's smallest gardens flourishes in Viiskulma. For years, record store keeper Emu of Digelius has taken care of the garden that has grown there around a water outlet. The garden, located in the middle of the large junction, is only 10 centimetres in diameter.
Text: Meri Eskola