Ornamo Teosmyynti Goes Vallila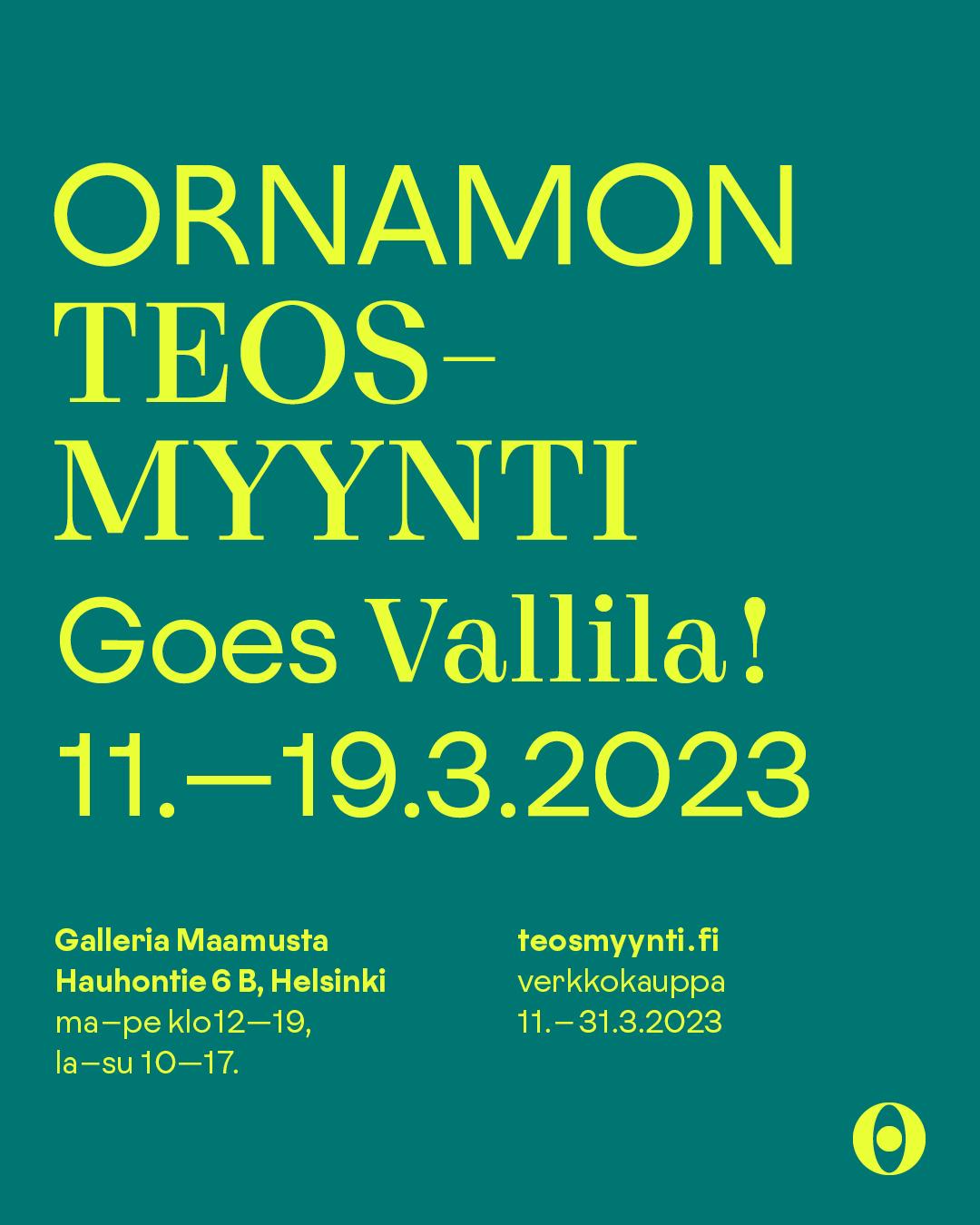 The on-line store is open until the end of March! Now shipping  free of charge!
Ornamo's Art and Design sale collects a selection of unique artworks. The exhibited pieces range from one of a kind ceramics, glass, textile, metal and woodwork to sculptures and utensils cherishing the crafts behind the artworks. On display are unique and previously unexhibited pieces from established as well as emerging designers and artists.
This year, the curated gallery event took place at Galleria Maamusta in Vallila Helsinki (Hauhontie 6 B) from March 11th to March 19th 2023.
The online store teosmyynti.fi is open until the end of March! Online purchases are now shipped free of charge!
The guest curator of the year is art loving script writer Anna Brotkin who lives in Vallila.
For inquiries, please contact teosmyynti@ornamo.fi
Participating designers in 2023: Elina Aalto, Laura Aalto-Setälä, Soili Arha, Arni Aromaa, Tuuli Autio, Ville Auvinen, Liina Blom, Carina Blomqvist, Merja Castrén, Jaea Chang, Aino Eeronheimo, Anna-Kaisa Eriksson, Aino Favén, Elisa Friman, Sssimone Gaglione, Laura Gröndahl, Katariina Guthwert, Özgü Gündeslioglu, Anna-Kaisa Haanaho, Jukka Hakanen, Ulla Harju, Ville Heimala, Niina Hiltunen, Anni Honkajuuri, Katri-Maria Huhtakallio, Elli Hukka, Leena Hyttinen, Sofie Hägerström, Sanni-Mari Hänninen, Petri Ikonen, Mari Isopahkala, Alma Jantunen, Raija Jokinen, Miia Kajaani, Aura Kajas, Ritva Kara, Karismaton, Merja Keskinen, Piia Keto, Sari Kettunen, Kirsi Kivivirta, Hanna-Kaisa Korolainen, Saara Korppi, Katja Kotikoski, Katerina Krotenko, Tero Kuitunen, Tarja Kunttunen, Chao-Hsien Kuo, Laura Kärki, Pasi Kärkkäinen-Tunkelo, Anni Kääriä, Valentina Lachner, Henriikka Leppänen, Pia Liila, Sini Majuri, Niina Mantsinen, Piritta Mettovaara, Mejreme Miftari, Saana Murtti, Valentina Näsi, Katri Oikarinen, Riikka Peltola, Matteo Pennacchio, Tuulia Penttilä, Johanna Porkka, Maija Puoskari, Lilli Putti, Inni Pärnänen, Sirpa Rahtu, Johannes Rantasalo, Raija Rastas-Vähäsarja, Meira Rauta, Sami Rinne, Sanna Rintalaulaja, Paula Ruuttunen, Johanna Rytkölä, Melissa Sammalvaara, Heli Savila, Anna Schroderus, Tuuli Somma, Anna Sorri, Jenni Sorsa, Sauli Suomela, Paula Taipale, Ahti Taskinen, Satu Turunen, Riitu Uosukainen, Marjut Uotila, Eeva Valkeisenmäki, Jyrki Valkola, Kristian Venäläinen, Jari Vesterinen, Dario Vidal, Sini Villi, Marika Viskari, Tatu Vuorio, Tiina Wallius, Thomas Welander, Miira Zukale.