Press release: Carbon-neutral planning, social design and internationalisation of Finnish design – the nominees shortlisted for the 2020 Ornamo Award are design forerunners in Finland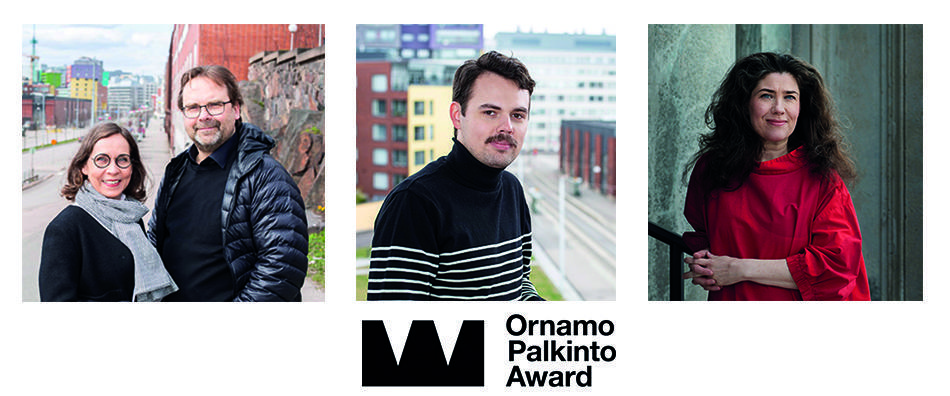 This year, shortlisted candidates for the prestigious Ornamo design award are interior architects Hanna Gullstén and Jari Inkinen, industrial designer Joonas Kyöstilä and Laura Sarvilinna, Creative Director of Habitare Fair. The candidates are determined free spirits and design pioneers in their respective fields. They are interested in the role that design can play in promoting the circular economy and equality as well as an international mindset and experimentation.
This year's Ornamo Award winner will be selected by Rosa Liksom, writer and visual artist. She is known particularly for the novels 'Colonels Wife' (original title: Everstinna) and 'Compartment No. 6' (original title: Hytti nro 6). For the latter, she won the Finlandia Prize literary award in 2011. The Swedish Academy's Nordic Prize was awarded to her this year.
She identifies herself as a lover of design, and Finnish design plays a significant role in her everyday life. In design, she is particularly interested in the relationship of functionality with aesthetics. Social responsibility and sustainability, strong themes in the award candidates' work, are important for Liksom.
"I see this planet as a whole, where humans are only one species among many. Humans have a great power to destroy, but also our ability to create is unique. I believe that a stronger community spirit will help prolong our time on Earth," Liksom says.
Internationality plays a key role in Liksom's career. She would hardly have become a writer and artist without her numerous travels around the world.
"It was vital for me as an artist to go international. Finland has plenty of competence and ideas which are not marketed intensely enough at the international level. In this respect, our western neighbour Sweden is miles ahead of us."
It is a welcome challenge for Liksom to get acquainted with the Ornamo Prize candidates.
"I'm looking forward to a positive surprise!"
Ornamo Award nominees 2020
Interior design architect Hanna Gullstén (born in 1965) and interior design architect, architect Jari Inkinen (born in 1965) have been running their creative design agency Gullstén-Inkinen Design & Architecture for more than 30 years. They have designed hundreds of offices, hotels and restaurants all over Finland. Their recent designs include the Nordea Campus Food Market in the Vallila district of Helsinki, Telia Finland's new headquarters in Tripla shopping centre in Helsinki, and Original Sokos Hotel Kupittaa in Turku. The designer duo has completed international assignments in Europe, Russia and Asia. For Gullstén and Inkinen, not only new buildings are important but also old ones. Their aim is to preserve and renovate old buildings to give them a new lease of life. Their work in design has relied strongly on sustainable values throughout the years. Gullstén & Inkinen became Finland's first fully carbon neutral design agency in 2020.
Industrial designer Joonas Kyöstilä (born in 1993) graduated from Parsons School of Design in New York as MFA in Industrial Design in 2017. He currently lives in Helsinki and runs his own business as a design consultant. In the United States, he was Head of Industrial Design at FFORA, a fashion and lifestyle brand that brings intuitive accessories and fashion to the disabled community. Kyöstilä was responsible for developing the company's product portfolio in close cooperation with wheelchair users. Kyöstilä wants to harness design to better serve the needs of underserved communities and to stimulate discussion about equality. He is also a co-founder of Mooki Mello, a children's product brand producing Moby paper pulp chairs that encourage imaginative play and creativity among children. Regardless of his young age, Kyöstilä has won recognition in American design through several design awards. His work has been acquired for the collections of Philadelphia Museum of the Arts, Henry Ford Museum and Chicago Atheneum.
Creative Director for Habitare fair, Laura Sarvilinna (born in 1972), has been responsible for the contents of the event and its further development for years. After graduating as a ceramist in 1995, she has since worked in process and materials development, sales, marketing and communication positions for Hackman, Iittala and Artek among others. In 2005, Sarvilinna established Huippu Design Management, the world's first design management agency, which represented many designers and architects particularly in the international market. Headed by Sarvilinna, the company was also responsible for the satellite program of the Helsinki World Design Capital 2012 project. Through her work, Sarvilinna has significantly promoted international awareness of Finnish design and as the Creative Director for Habitare fair, striving to enhance the educational aspects of the event by highlighting sustainability themes, including the circular economy.
What is the Ornamo Award?
The Ornamo Award has been awarded since 2015, and the candidacy is a highly valued recognition in itself. Nominees are put forward by Ornamo members, with a three-strong shortlist chosen by the Ornamo board. The prize is 5,000 euros. This year's winner will be selected by Rosa Liksom, writer and visual artist. The winner will be announced in a livestream on September 3rd, 2020.
Images of the candidates and their work can be downloaded from the 2019 Ornamo Award image bank at: ornamo.fi/en/image-bank/
Interviews and further information:
Maija Toivonen, Communications Specialist
Tel. +358 44 769 3500
maija.toivonen@ornamo.fi