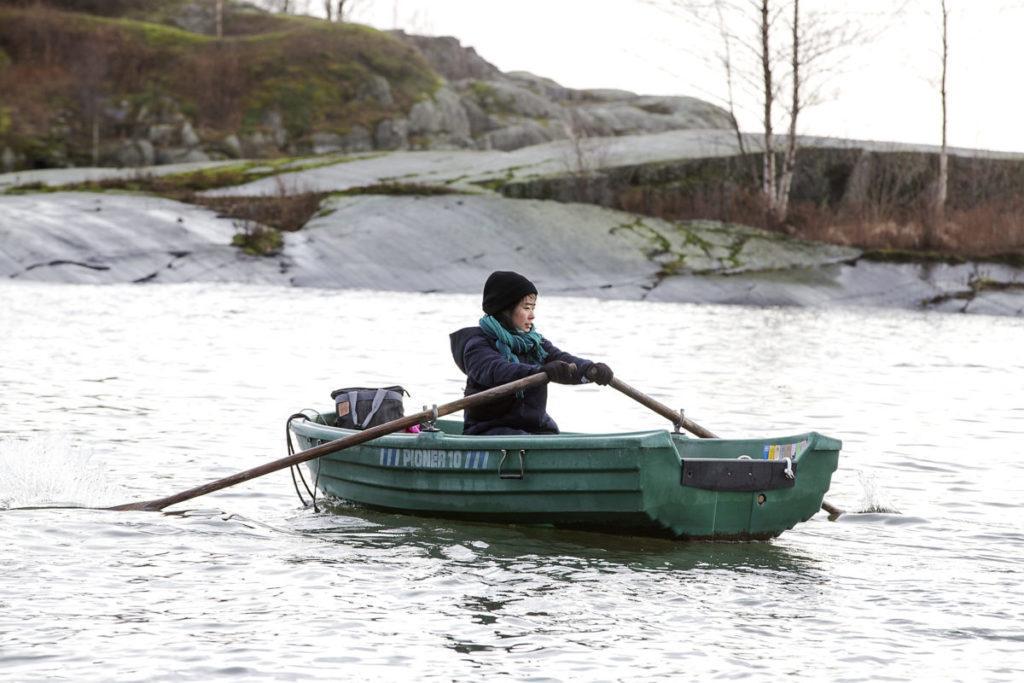 Helsinkian Aoi Yoshizawa is rowing a boat in front of Kaivopuisto. She is on her way to her workshop in Harakka island which you can reach by public ferry line only during the summer time. The artists community on the island was founded already in 1988 and they all have a common desire to do their creative work peacefully in the middle of nature.
"Nature is an endless source of inspiration for artistic and industrial textile design work. Nature is present all over Helsinki and creative designers don't really differentiate between work and free time. Commonplace blueberry and mushroom picking in Central Park or nearby islands bring inspiration to my work as well", Yoshizawa tells.

Art that raises emotions
Aoi Yoshizawa's working methods are extremely sensitive and time consuming. A view or a piece of the landscape is combined to the artists feelings within that moment and is captured in painted or photographed sketches. After, she moves to her workshop to test textile handicraft methods and technical possibilities that guide the creative work forward.
New materials out of industrial surplus
Yoshizawa is using industrial surplus materials and refines them into new unique threads by hand twisting. Depending on the color mix and tightness of the threads, endless possibilities for variations are available. Textile artists creative work is combining research, testing, developing, technical aspects, knowledge and creative ideas together.
"One woman who bought an art piece from my exhibition in Tokyo said that it is like a window to the nature. Then I knew that my feelings had been transmitted to her. The most rewarding thing for an artist is when a piece of art touches the person and brings her/him pleasure. In this hard world, people need warmth and softness that textile art can bring to an urban home", Yoshizawa ponders.
Mini art is easy to collect
You don't need to be a collector, art expert or rich to collect art, as in "low doorstep" sales events you can by art with instalments, or artists own webshops without commercial middlemen. Textile art has always been a natural part of home decor. Textiles damp hard voices and bring warmth, color and atmosphere to spaces.
Aoi Yoshizawa has lately exhibited mini textile art pieces. Mini textile art started originally in London 1974 to become an international phenomenon. The Finnish Association of Textile Artists TEXO has maintained the tradition in Finland since the late 70's. For art lovers, mini art is favorable for collecting as you can collect them gradually.  You can make your own variations fitting your home interior, and you can fit a lot of art pieces even into a studio apartment.
Aoi Yoshizawa was one of the 26 textile artists that participated Ornamo Art and Design Sale event this year. All together there were 140 participants who are specialized in different techniques of industrial art eg. glass, ceramics, wood and paper art as well as jewelry and unique lamps. Ornamo represents designers in Finland. Welcome to browse artists and designers own web shops in finnishdesigners.fi and visit Yoshizawa's website!
The article was first published in Finnish at Paikallislehdet, March 2020.
Text: Petra Ilonen