Crossing Borders – Part 2: Inkuto 
Why on earth does an automotive engineer put up a cosmetics company in Finland? This is what I wanted to investigate today. The automotive engineer is Edem Agbekey-Taylor. She educated herself in Ghana with the financial help of her less educated mother. Expensive education was to ensure her a bright career and future as an engineer. She started out working in Accra as the workshop administrator for a workshop representing Volkswagen and Audi Golf. She soon faced the gender salary politics and decided to move on with her studies and career in Europe. After the long route, with many fortuitous coincidences, she ended up to Finland, the land of the engineers, as we say.
"Very soon after moving to Finland I met my to be husband, Bryan, who found his way to Finland from Britain in 2000. He started assisting me in acquiring work in my field. We simply went to the companies representing Volkswagen, Audi and others. That didn't work out at all. It was a constant flow of "no's", Edem says.
But Edem is not a kind of person who gives up, gets lazy and moans for money at the social security office. She worked for a while in a cleaning company and ended up putting up her own cleaning business, which eventually expanded to form this high-class organic cosmetics company called Inkuto International. The aim of the company is not only to take care of our sensitive skin but also to empower widows in Ghana through fair trade. They make the butter from the seeds of Karite trees which Edem then processes and develops into her own products in her factory in Helsinki.
Business Finland, are you listening, I'm talking to you?
When hearing Edem's history, I just start wondering what is the state of our society if the only occupation we seem to accept for a citizen with an African heritage is a cleaner. I feel ashamed. We have missed an automotive engineering talent. Nevertheless, we and her husband Bryan keep on talking about Finnish electric car innovations like Toroidion but soon the reality brings us back to the cosmetics store where we are having a cup of hot ginger tea surrounded by enchanting fragrances.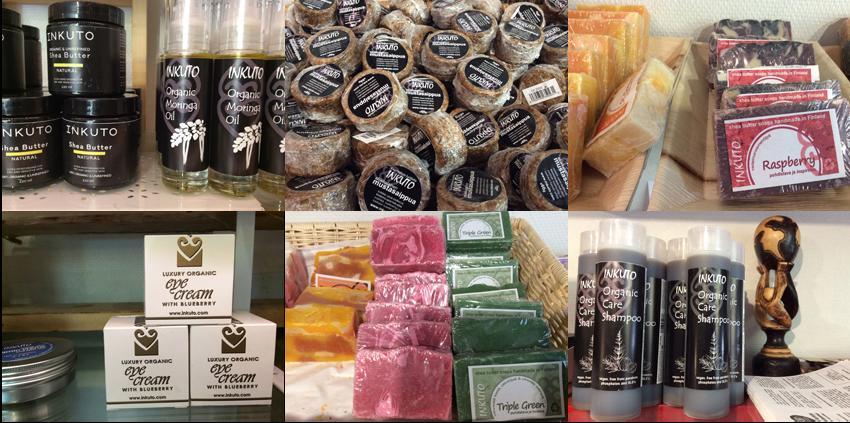 "My cosmetic business started out with our baby having problematic skin in this dry and alternating climate. The midwife in the child counseling bureau was fully surprised when I followed my mother's advice to use natural West-African cosmetics on the baby's skin that healed in a very short time. The midwife had never heard of shea butter that is the traditional base for the skin balm. She wanted to recommend it to others with same problems and to use it herself. I started researching the subject and found out that there was no company in Finland specialized in shea butter based cosmetics. That's how this all started out in 2007", Edem tells.
Last year, the one-woman-company Inkuto International achieved a goal by getting some products into Kesko to reach a wider customer base. Before that the retailers have been relatively small stores specialized in organic products. What can I say? This woman should be given a resilience award or, even better, get some support for business growth from our biased society. Business Finland, are you listening, I'm talking to you?