Towards Climate-Neutral Finland by 2035 with Industrial Design Engineering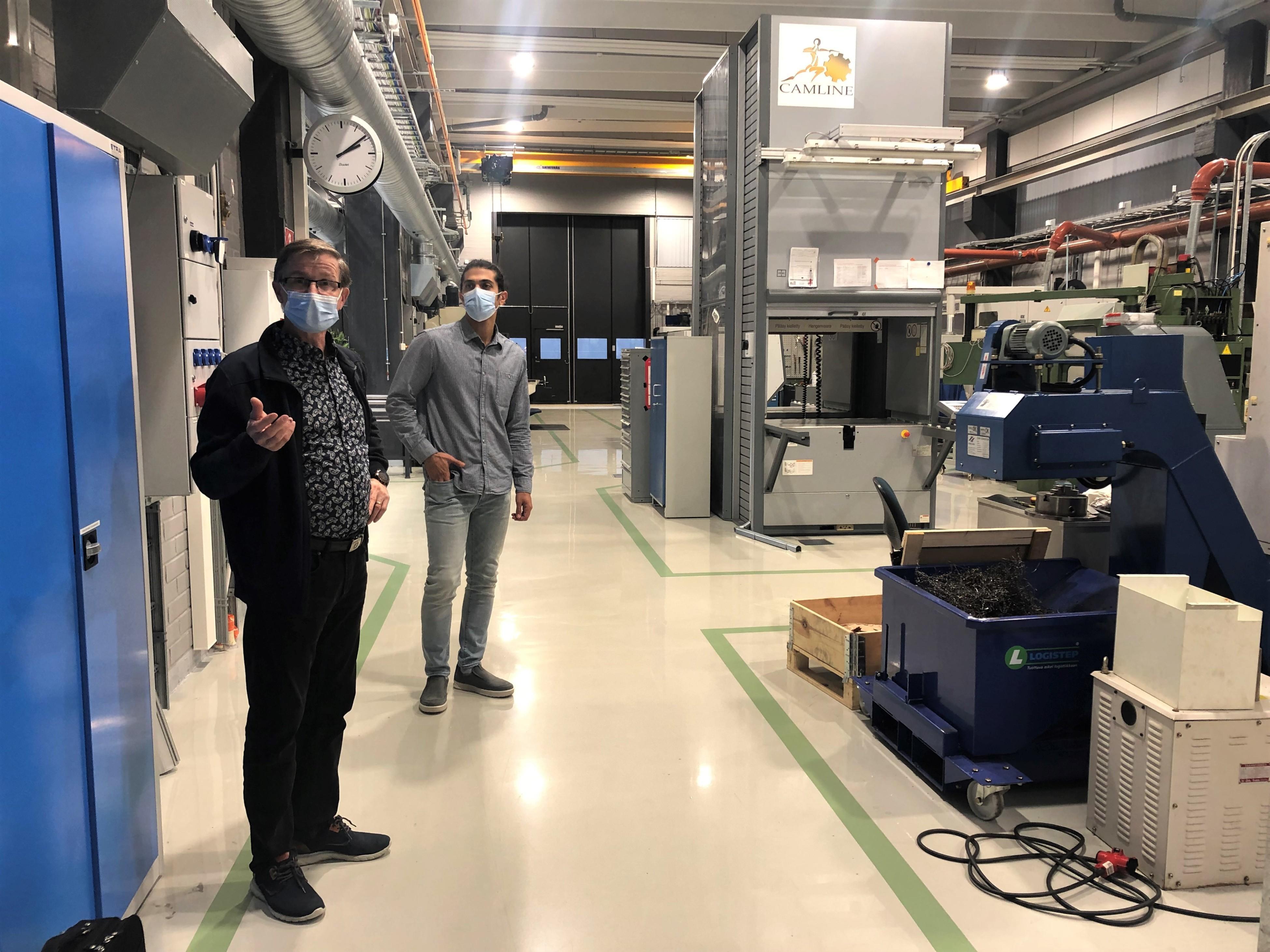 Great News! The very first Industrial Design Engineer Masters have graduated in Finland. Lappeenranta-Lahti University of Technology LUT initiated the program when creative industrial design education in Finland was lessened and scattered into specific areas such as Collaborative and Industrial Design, Service Design and Creative Sustainability. Industrial Design Engineering program in LUT offers further education for Engineering and Design professionals in product design. The program concentrates on the development of tangible products.
"We want to break the brick wall between designers and engineers in Finland. They are both designing products yet emphasizing different features and manner of approach. Mechanical Engineers have a deep understanding of materials, machines, and industrial processes. Designers focus is on user experience, aesthetics, ergonomics, and product life cycle. All that is needed in the process of creating commercially successful yet sustainable products. Industrial processes, products, and usability should be designed as an entity from the very beginning of the assignment. That is how the wall can be put down" explains Juha Varis, Professor of Production Engineering in LUT.
Plastic Free Packaging Industry
Online shopping in Finland has increased 26% in 2020 and 31% in 2021 according to Finnish mailing company Posti. Their survey predicts that the same trend will continue after the Covid-19 pandemic. Online shopping is causing new challenges in logistic, mailing services as well as packaging industry. These facts are guiding Engineers and Designers towards new sustainable innovations and products that are suitable for smart circular economy. Vegetable starches can be used to replace oil-based plastics. Sensor technology enables smart solutions such as packages that can sense when the food is contaminated, for example.
"There is a vast interest and need for sustainable packaging solutions. We have built ideal circumstances and created a Packaging Laboratory for examining and testing new materials and forms. The lab is relatively new in the Mechanical Engineering Department and without the burden of the past. Therefor we have fresh insight into sustainable packaging development projects.", Juha Varis suggests.
From Designer to Design Director
Anna Rautio is an Interior Architecture and product design professional. She wanted to expand her knowledge and found the IDE (Industrial Design Engineering) program while working full time in a Finnish outdoor and sporting company.
"I used to be a designer but now I can call myself a design director. After the IDE program I have a clear understanding of the whole product development process. I know what I am best at and what kind of other people with special skills are needed for reaching the goal. I am able to speak "engineers' language" now", she laughs.
Anna Rautio's thesis was dealing with a common winter problem in Finland: slipping on icy pavements. There are multiple ice cleats available on the market, however, the different needs of the users are challenging to combine in the design process. Rautio focused on searching new design criteria for a good overall model that is desirable for the consumer.
The brilliant part of the IDE program is that the applied methods in the program are implemented to practice right away as the master students have working positions or their own design companies. Within reasonable time, we can buy nicer ice cleats.
Lighter Vehicles, Less Fuel Consumption
Mechanical Engineer Pratik Hosamani is working at Scania designing buses and trucks. With his words, he has a decent knowledge of materials and structures. In IDE program he wanted to upgrade his knowledge towards Industrial Design.
"I call this the next level because industrial design is not just creating new products but rather designing new solutions that are better than what already exists. After IDE masters I'm also more interested in ergonomics, aesthetics, and user experience. We don't need to create anything new in our company – as we have it all – but what sets you up as a designer is how well you do your design work. It needs to add value. Not just to the product but to the customer", Hosamani notes.
Pratik Hosamani's main concern as a mechanical engineer was to design vehicles that function well and don't fail, so to say. As an Industrial Design Engineer, he went deeper in his thesis researching how to reduce the weight of certain bus models without effecting the existing production line. The objective was to create a lighter bus that is more sustainable as it's made of less material and is using substantially less fuel. After a thorough research work using design methodology, Hosamani could prove, that by making very little changes in the existing product line, you can achieve a big impact. He didn't only redesign a crucial structure but also analyzed its life cycle.
From Art to Design
The man behind the Industrial Design Engineering program in Finland is post-doctoral researcher Amir Toghyani. His professional interest is in sustainable and circular product design, design for manufacturing. and Design Thinking.
He innovated the idea of setting up the Master's program, and approached his educator in LUT, Juha Varis, four years ago.
Industrial design education started in Finland already in 1961 to the Metal Art faculty in the School of Applied Arts in Helsinki. It was set up by Markus Visanti who was an architect and the Principal of the school. That created a lot of discussion in its early stages, for and against, according to one of the pioneers of industrial design in Finland, Heikki Metsä-Ketelä.
"Technology industry society and other experts including industrial designers had to do a lot influencing before the faculty was finally set up. It was quite an achievement", tells Metsä-Ketelä, who has a long and productive history of working with engineers and development teams as well as educating industrial design students in Finland and abroad.
Surprisingly one of the opponents to set up the faculty in 1961 was product designer Kaj Franck. He was the Art Director of the School of Applied Arts at that time. Seven years earlier he had had a scholarship to visit design institutions in USA. Amongst other design education leaders, he met MIT professor John Arnold. He was Mechanical Engineer and Psychologist, who is known to be the pioneer for advancing inventiveness scientifically based on the psychology of creative thinking and imagination.
Interestingly, the founder of that very same applied arts school in Helsinki one hundred years before Franck in 1862 was an engineer, August Fredrik Soldan. The name was then the School of Woodcraft (translation of Veistokoulu). The bigger industries in Finland were only in developing, and Helsinki was a town of some 30,000 inhabitants. Soldan noted that the technical knowhow in Finland was non-existing, and the craft industry was not productive. That was his starting point in developing the education towards more productive industries following Sweden's successful example.
Sixty years after August Fredrik Soldan's death, industrial designers' role strengthened strongly in our society as the rebuilding was inevitable after the second World War. Armament and other factories which had served the war industry were agilely turned into everyday product factories. The designers were taken along fast as the needs were diverse and urgent.
When coming to the 1970's, the design education in The University of Industrial Arts which it was upgraded to, became highly politicized causing a lot of confrontation and even strikes. Technology and industrialism were seen as obstacles for creating a socially sustainable cohesion. What happened eventually within our society was that designers were soon seen as elitists because they were living in another reality than the consumers. They became more individualistic comparable to artists.
Design and Engineering as Part of Architecture
Let's come back to LUT University. The new Industrial Design Engineering program is following in the footsteps of the Technical University of Delft in the Netherlands, with more than fifty years of history in academic Industrial Design Engineering education.
The program for Industrial Designers at Delft was founded in 1969 and added to the Architecture faculty alongside with Interior Design and Construction Techniques.
In Finland the design students have been studying side by side with architects and engineers in Aalto University recently since 2010. Also, Business and Economic faculties became part of the University at the same time to create coherence between the programs.
This is a big change for design education which has been for so long attached and associated with Art education in Finland – not only in the previously mentioned design institutions, but also in the University of Lapland, as well as in many of the Universities of Applied Sciences offering design education around Finland. Few started combining Design and Engineering education in 2017. Small steps towards August Fredrik Soldan's ideology?
Skills and Learnings Define the Occupation, Eventually
The bubbly history of design education in Finland has created an atmosphere where design is often understood as artistic work, whereas engineers and architects are considered as experts in product and environmental development design.
The same atmosphere is seeded in many design graduates who are balancing between the two professional identities asking themselves: to be a designer or to be an artist? Many of those students end up being sort of both at the same when entering the professional work life.
On the other side, employees don't understand what designers do as work. Many graduates are even today questioning technology and industries, and don't want to design for industries as it's environmentally unfriendly. But, will the industry ever change for better if designers become artists and go around the world presenting their handiworks in galleries?
My questions to these graduates are: What are your skills? What did you learn? What do you want to do for a living?
In my opinion, artist is another profession, and we have great universities in Finland for that profession, as well. The possibility to take courses from other faculties and universities exists and the coherence can be created by co-operative projects between design and visual art students, and even more so with artisan students in glass blowing, cabinetmaking, sewing, 3D-modeling, animating, etc. We also have best schools for artisans!
It's important for our educational system that every graduating student gets recognition and work within their own field. Design education should lead to design thinking!
Design Studies Draws Expats to Finland
"Design education in Finland is great but I was hoping to see more congruence and integration with
design in the actual working life, as I have experienced in my previous studies at TU Delft.", says Hilda Ruijs who moved from The Netherlands to do her masters in Collaborative and Industrial Design program and minor in International Design Business Management in Aalto University.
I can't agree more with her. There is a huge gap. I've been mentoring and talking with highly educated and talented design graduates who have had a hard time finding jobs or clients in Finland. Finns, as well as expats who have, for educational reasons moved to Finland from other countries. Designers and other professionals from out of the EU are being put under pressure by the authorities if their income does not skyrocket after graduation. In practice, this means that often these creatives relocate where the working market is more open to talents that are not native Finnish speakers.
Ministry of Economic Affairs and Employment in Finland announced in December 2021 that Government proposes legislative amendments to increase retention of international students. The right of foreign students to work during their studies would also be improved. In the legislative reform, there will be an extended one or to two years "jobseeker's permit", which is granted to students and researchers who have completed their studies or research.
Before moving to Finland, Hilda Ruijs did her Industrial Design Engineering bachelor's at the Technical University of Delft. At the same time with her about one thousand students enrolled in the bachelors for Industrial Design Engineering. Now she is open for work and the interest on her skills raised fast within companies. She was literally on her way to a work interview when she told me about her background while visiting Ornamo.
"Designers have an ability to make impact in the society through their work. To create more awareness using participatory and co-design processes. Design work is very much hands on creative teamwork. It is a mindset that questions and iterates while building the products and services, the connection with the world, that we dream of", Ruijs points out.
Truly, we live in an incomplete world that needs acts in sustainable development, and at the same time Finnish businesses want, and need to grow. Therefore, it's highly important that the working life in Finland opens to Expats as well. By creating more intercultural and diverse work communities, the companies can grow naturally towards internationalization, and have a better stand at competing in the global market. The excessive demand for Finnish language skills in work life is outdated. The companies could rather think: what languages does the expat bring in?
Developing the Production of Gambling Machines
Aaro Kurkela's thesis in Industrial Design Engineering was researching the use of design thinking when improving product development processes. Aaro works as a Design Manager at Veikkaus that is a governmentally owned gambling company operating all the games available in Finland.
Kurkela's objective was to develop the processes of gaming product production by involving all the people connected to the process. He wanted to emphasize the possibilities what Design Thinking adds in. By using human-centered design for process development, you also bring up the corporate responsibility and add value to the company.
"In IDE program, I wanted to upgrade my knowledge that I have as an industrial designer. It has opened up possibilities for more demanding assignments and given me opportunity to be involved in discussions on company's sustainability targets and what kind of actions need to be done to achieve those goals", Aaro Kurkela tells.
Design Adds Value to Return On Investments
On top of decreasing costs with smarter and more sustainable production solutions, design brings added value to companies in the form of Intellectual Property. Design and patent rights are working as strong business assets against the competitors and copycats. Rapidly developing digital technologies are bringing new application possibilities for production, but also challenging the IPR of the products and services. Today machine learning and AI based services are also helping designers and companies to watch their legal rights online.
Mika Uosukainen finalized his IDE Masters by researching and implementing DfAM an additive manufacturing methodology to create a novel 3D printing application for using energetic materials. Uosukainen's background is in multiple areas of engineering and the IDE program was his big leap towards design thinking. Learning new methods that consider other than mechanical aspects in product design, create out of the box ideas for engineers.
"If you're working in product development, IDE masters gives you a better starting point than Design or Engineering education alone. It's not just that I can use the knowledge in my own work but now I have good understanding of what kind of design expertise can be used in product development. In our engineering company we also buy design services. I have been in situations where someone suggest that 'let's use a designer', then it soon leads to a 'no', we don't really need that. Now it's easier for me to talk about the value and solutions what it brings", Mika Uosukainen says.
According to Technology Industries of Finland the manufacturing sector accounts for about half of Finland's exports and almost 30% of Finland's GDP.
The governmental organization Business Finland has started a Sustainable Manufacturing program. It focuses on the perspective that emissions must be reduced to stop climate change, while changes must be possible without damaging the finances of companies. IDE program in LUT University obviously has the very same goal.
Let's go towards emission targets by industrial design and engineering, together!

Interested about the Industrial Design Engineering Master's program? You can apply to this Master's programme through either rolling or regular admission:
Rolling admission (only for those who have completed or are close to completing their degree outside of Finland) is open now until 31 May 2022.
Regular admission is open now until 19 January 2022.
https://www.lut.fi/web/en/admissions/masters-studies/msc-in-technology/mechanical-engineering/industrial-design-engineering
Reference list:
http://www.uiah.fi/opintoasiat/history2/veistok.html
https://www.designmuseum.fi/fi/events/kaj-franckin-matkamuistiinpanoja/